Our Staff
Our staff is committed to providing support, compassion, information, and direction as needed to all members of our community, their families, and friends who are dealing with loss and grief.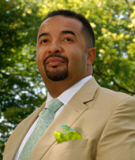 E. Bruce Talbert
L.F.D.
E. Bruce Talbert, son of the late Elmer and Vernice Wimbush Talbert, is a lifelong resident of the city of Chester, PA. A 1988 graduate of Chester High School, he continued his studies at Delaware State College (University), graduating in 1993 with a BS in Marketing.
In June 1986, Bruce began a summer job at the W.M. James Leake Funeral Home Inc. in Chester under the mentorship of the late W.M. James Leake. It is with her encouragement and guidance that he set his sights on a career in funeral service.
After graduating from the Pittsburgh Institute of Mortuary Science in 1995, Bruce returned to Chester, PA. Since then he has been known throughout the community for his professionalism and concern for grieving families. It is his belief that everyone deserves the same level of respect and quality of service, regardless of the type of funeral service selected.